Each season, we create new colors for our paper lanterns range, to help you bring a little bit of pretty to each of your party, wedding or home decorations. Our colors are exclusive, your decor will be unique.
You can mix and match sizes (accordion lanterns in 20cm and 30cm) and colors, pastel, bright or neutral, to easily decorate your wedding venue, birthday bash, kids playroom or baby nursery. Wow effect guaranteed.  
Here are some of the accordion paper lanterns new colors you can find in our store.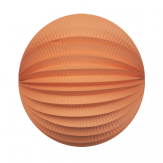 Peach daiquiri 
Raspberry jam
New yellow
Frosted lilac
Lavender mist
Baby blue
Tea rose
Mint bubble
Shop our new colorful accordion lantern for your wedding or home in our boutique!